Published Date: June 1st, 2011
Finished Date: August 19th, 2011
Blurb from Goodreads: Mom touched my underdress—a gown made six hundred years before—and her eyes widened as she rubbed the raw silk between thumb and forefinger. She turned and touched Lia's gown. "Where did you get these clothes?"
Gabi knows she's left her heart in the fourteenth century and she persuades Lia to help her to return, even though they know doing so will risk their very lives. When they arrive, weeks have passed and all of Siena longs to celebrate the heroines who turned the tide in the battle against Florence—while the Florentines will go to great lengths to see them dead.

But Marcello patiently awaits, and Gabi must decide if she's willing to leave her family behind for good in order to give her heart to him forever.
------------------------------------------------------------------


My review:
From the very moment i picked up this book, i was like:
Seriously, it is that good. That is also why i've put off writing this review. I'm afraid of my inability to fully justify how good this book was.
I devoured this book. Literally. The first book didnt impress me much, more of, "oh okay, im done. Move on". Y'know? But this..This is a stunning novel that far surpassed its predecessor. A phenomenal book just short of a miracle.
*I must warn you i am wont to being a little over-spoilery. So if you dont want to be spoiler-ed, skip my summary:)*
This book picks up right where WATERFALL left off, where Gabi and Lia tries to convince their mom to time travel back with them to medieval Italia. Their mom was skeptical at first(uh, duh), but was willing to take the leap anyway. Because both girls dont know how to control how many years to rewind, they ended up months after they left.
It was kind of funny how Gabi fret over how much time has passed. The scene goes like this:
"Let's hope it's the same year," Lia said, sliding her bow over her shoulder.
My heart paused and then pounded at her words. What if I was off by a year or more? What if Marcello was no longer a guy about my age, but rather a middle-aged man? I shivered.
That would be…awkward.
Loll
Anyway, shortly after their sweet(and i mean sweeet) reunion, the entire Siena population got wind of it and are in celebrations. So the trio(Gabi, Lia, and mom) are carted off to Siena where they will be hosting lavish feasts and whatever they wanted.
(ok this isnt a major part of the book but i MUST mention it. Or rather..
him
) GRECOOOOOOOO. There, at the ball-cum-feast, she met Lord Rodolfo Greco. Good guy, smart guy, hot guy. Perfecto.
Anyway, yes, there she met a few people, some old, some new friends, and one old enemy - Paratore. Something happened between them and off they go home. On the way back, they met with someone who has been infected by the bubous plague, which would ultimately lead to the Black Plague 5 years later in 1338(or sth). To not spread this contagious disease, they fled to an isolated middle-of-nowhere place and settled down. But not long after their arrival, the Firenze army closes in on them, unprotected and unawares...
Actually, that's not the end of it but it'll be too long if i really summarise the entire novel. That's testimony to how truly eventful it was. Mindblowing-ly awesome, i swear.
Gabi is such a courageous, loving, and beautiful lady. You can really see her grow and mature into a true lady at court, ready to lead and well..give speeches. Her speeches are really cool. One quality that i really lack. I'm digressing.
Oh man, and the love between her and Marcello is sweet and romantic. They're protective of each other and their banters! Oh their banters! They totally rock my socks.
There's a new character in this one, and lots of potential. It is a one Lord Rodolfo Greco. Greco Greco Greco, your name sounds like a frog, but your demeanor is far, FAR from it. Your looks too(hubba hubba). Anyway, he is Fiorentini, but he takes care of Gabi tenderly when she was captured(oh did i just spoiler you?oops. oh well), and he's dialogues are filled with depth and..oh swoon. You'll love him:). Really hope to see more of him in TORRENT!
There was lots more humor in this one. Definitely more humor.
I heard the dull sound of a metal latch unhooking, and a door opening behind a moth-eaten tapestry in front of me.
Dude. This is SO Nancy Drew. And Harry Potter. Nancy Potter.
One teeeeeensy weeeeeeensy thing that i thought wasnt right was that after Person A was starved and dehydrated for 2 days straight, how can Person A walk and swim? Moreover fight? That's....not right. No one's superman, yo, except superman.
Bergren's writing techniques weave an enchanting story, much more elegant, grand and beautiful than the last. And when it comes to the romantic part..Ahh..How love soars through the air with abundance of pretty pink frills and lacesXD. Pardon my gay-ness, i am but just celebrating my joy of having read another fantasticle book. Oh and that frills and laces sentence wasnt a quote. That was just my lame attempt at expressing my gay-ness.
Anyway, add to that, the plot and storyline was jam-packed with action and suspense, there was never a dull moment throughout.
After reading for so long, i was still like:
And at the end, i was like: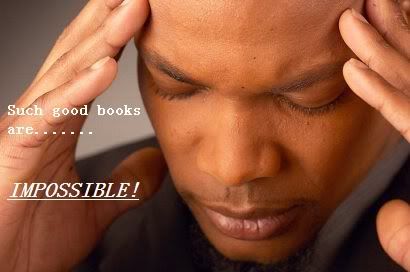 Bottomline: I have no higher praise for this book.