Welcome to the Indie Authors Spotlight, my good readers! Beckie, over at
Bittersweet Enchantment
, did a post about how she regrets having to reject review requests from Indie/self-published authors cause of our blogging/reading commitments as book bloggers, and so she and I came up with this new weekly meme to help promote these authors called Indie Authors Spotlight where we will feature up to 3 Indie/self-published authors every Sunday. You can find out more it at my
Indie Authors Spotlight page
.
So, this week, I will be featuring...
Michelle Isenhoff!
I was born and raised in a not-so-busy corner of Michigan. I live there still, enjoying the changes that come with every season. In the spring and summer I like to swim, camp, and garden. When fall brings cooler days, I gather my writing tools and hibernate until spring softens my garden once again. I enjoy playing the piano all year long.
As a child, I carried a book with me wherever I went. Books with titles such as
Little House on the Prairie
, by Laura Engalls Wilder,
The Lion, the Witch and the Wardrobe
, by CS Lewis,
Big Red
, by Jim Kjelgaard,
The Black Stallion
, by Walter Farley, and
The Call of the Wild
, by Jack London. Through books, I was able to visit so many exciting places!
After graduating from college, I worked in elementary education for several years and found I never really outgrew these wonderful tales. Today, some of my favorite authors include JRR Tolkien, AVI, Gary D. Schmidt, Elizabeth George Speare, Jean Craighead George and James Herriot.
The elements I love most in a good book are beautiful imagery and a strong hero who grows and changes. These, I think, characterize my own writing. I create characters who make wise choices or face honest consequences. Hopefully, they inspire kids to make thoughtful choices of their own. But most importantly, I write stories that kids can escape into, as I did growing up. As I still do now.
To date, I have published four children's novels and a couple short stories. Two more novels are in the works. (Keep watching my "
Books
" page!) When I'm not writing, I can still be found with book in hand.
--Quoted from
Michelle's Website
-------------------------------------------------------------------------------------------------------------
Michelle's novels:
The Quill Pen
(Fantasy)
If you owned a pen that wrote the future, would you use it? What if the consequences spread like ripples in a pond? What if they raged out of control?
What if the pen demanded tribute...in blood?
Thirteen-year-old Micah has found such a pen. One that's ensnared him in a curse dating back generations. One that's devastated two families and now threatens his whole New England village. But how can Micah destroy the pen when it offers him his only chance at the future he dreams of? Ages 8+
Nook
|
Paperback
|
Smashwords
The Candle Star
Divided Decade Trilogy #1 (Historical fiction)
When Emily was a little girl, her father had taken her outside in each season and pointed out the pictures in the stars, explaining the ancient lore behind them. She wondered if he was looking up at the same stars right now.
"They're beautiful, aren't they?"
Emily stared. She hadn't heard Malachi approach.
"Looks like you can just reach up and pluck one down, maybe set it in a ring," he said. "It'd be the most beautiful piece of jewelry you ever laid eyes on."
He pointed to the giant dipper. "See the last two stars in the bowl of the spoon? They line up just right and point the way to the North Star."
Emily had learned that when she was six.
"When I was little, I remember Mama setting a candle in the window on the nights Daddy would get in late. I slept sound on those nights, confident that beacon was guiding my daddy home."
He paused as he contemplated the night sky. "The North Star is sort of like a candle that God hung up special to guide His lost children. Lot of black folks looking up at it right now, directing themselves home to freedom."
Kindle
|
Paperback
|
Smashwords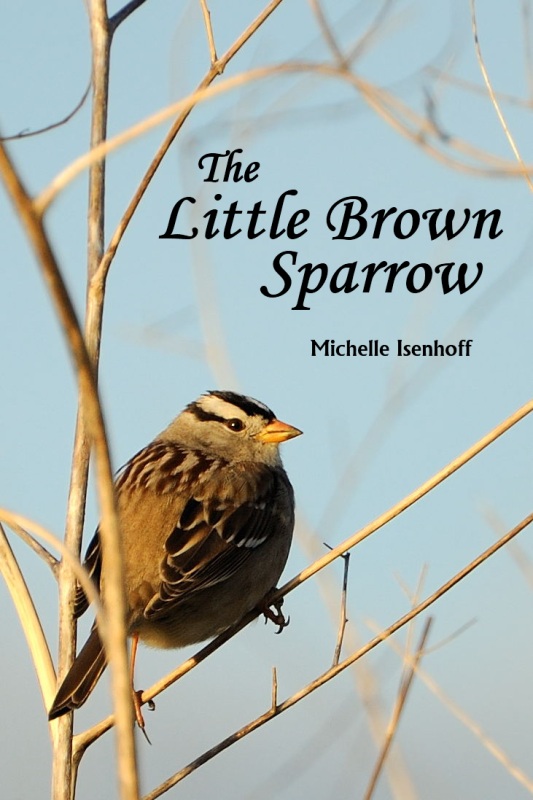 The Little Brown Sparrow
(Bible stories)
After a difficult day in the meadow, Keturah learns she doesn't need any particular talents to be special. She's valuable just as she is. A sweet retelling of a well-known Bible story, through the eyes of a bird who was there.
I wrote
The Little Brown Sparrow
years ago for a children's program at church. It's always been one of my favorites. Less than 950 words, I chose to make this one free. Enjoy!
Download it free
More about Michelle:
"
I am a former teacher (now homeschool mom) and enthusiastic reader who never outgrew the children's genre. I knew I had to write in it. All my books are written with the classroom in mind. Historical fiction, especially, provides a wonderful platform from which to teach, so to help teachers get the most mileage out of my books, I provide free, downloadable study guides on my website. But my primary goal is to provide a well-told story that's fun to read. I've had lots of adults ask me, "Why is this just for kids?" My answer: it's not!
"
See anything that caught your eye? You can find more of the books she's written
HERE
, or can visit Michelle at:
-------------------------------------------------------------------------------------------------------------
Giveaway Time!
Every last Sunday of the month, I will host a big giveaway for the Indie Authors that I've spotlighted, but since this is my very first meme, then there will only be one author's giveaway. So, Michelle is very generously giving away
3
ecopies of The Quill Pen to 3 winners. This giveaway lasts for 2 weeks till 2/12. Just fill in the form below, and you're all good to go!:)