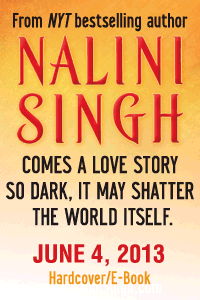 To celebrate the release of THE AMAZING
Heart of Obsidian
that released just 6 days ago (but I already read and reviewed it cause it was THAT AWESOME. See review
HERE
.), the brilliant mind behind this series, Nalini Singh and her partner-in-awesome-writing, her assistant Ashwini (Guild Hunter!!! Haha), are holding a
Mega Contest
where you'll get to win really, really beyond-this-world, mindblowing awesome prizes. Like you'll literally get a bookgasm when you go through the list of prizes.
To find out more about Heart of Obsidian:
Goodreads
|
Amazon
|
B&N
|
Book Depository
|
Author's Website
Soooooooo, I actually wanted to have a character + author interview with Nalini and maybe um, Hawke... (*SQUEEE* haha ok fangirlin' time over) But I think she's currently too busy at her crazy US/UK book tour, so the interview's not happening. :( Buuuuut, they're so generously providing a copy of SLAVE TO SENSATION to giveaway here at my humble blog! :D
This giveaway is mainly for those who haven't started reading this series yet or are book hoarders! Haha, so here's the deets to the book:
Slave to Sensation

Psy-Changeling #1

By Nalini Singh

Blurb from Goodreads:

THE HOT NEW NAME IN PARANORMAL ROMANCE.

Nalini Singh dives into a world torn apart by a powerful race with phenomenal powers of the mind-and none of the heart.

In a world that denies emotions, where the ruling Psy punish any sign of desire, Sascha Duncan must conceal the feelings that brand her as flawed. To reveal them would be to sentence herself to the horror of "rehabilitation" - the complete psychic erasure of everything she ever was...

Both human and animal, Lucas Hunter is a changeling hungry for the very sensations the Psy disdain. After centuries of uneasy coexistence, these two races are now on the verge of war over the brutal murders of several changeling women. Lucas is determined to find the Psy killer who butchered his packmate, and Sascha is his ticket into their closely guarded society. But he soon discovers that this ice-cold Psy is very capable of passion - and that the animal in him is fascinated by her. Caught between their conflicting worlds, Lucas and Sascha must remain bound to their identities - or sacrifice everything for a taste of darkest temptation...
This is international and it'll last till 24th June cause I'll back from another camp by then. :) To enter, just follow the Rafflecopter form below!
a Rafflecopter giveaway
Follow my blog with Bloglovin