Countdown Christmas is an event at
A Bookalicious Story
to celebrate the coming of Christmas in 2 weeks time. There'll be fun interviews, Christmassy excerpts and giveaways just brimming with bookish-goodness ranging from YA Fantasies to New Adult Contemporary Romances to Adult Historical Romances. I hope y'all will join in this celebration! The more the merrier, aye? ;)
9 days to go, folks!! It's down to one digit now! Today's guest is an author in a totally different genre. Historical Fiction!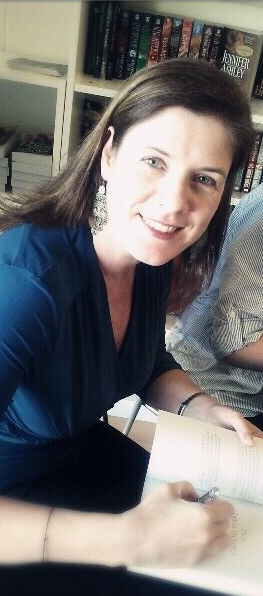 Michelle Diener!
About Michelle
Michelle Diener
writes historical fiction and fantasy. Her Susanna Horenbout & John Parker series, set in the court of Henry VIII, includes
In a Treacherous Court
,
Keeper of the King's Secrets
and
In Defense of the Queen
.
Michelle's other historical novels include
Daughter of the Sky
,
The Emperor's Conspiracy
and
Banquet of Lies
(loosely connected to The Emperor's Conspiracy).
Michelle's first fantasy novel,
Mistress of the Wind
, is set for a December 23, 2013, release.
Michelle was born in London, grew up in South Africa and currently lives in Australia with her husband and two children.
When she's not writing, or driving her kids from activity to activity, you can find her blogging at
Magical Musings
, or online at
Twitter
and
Facebook
.
Connect with Michelle:
Author's Website
|
Blog
|
Goodreads
|
Facebook
|
Twitter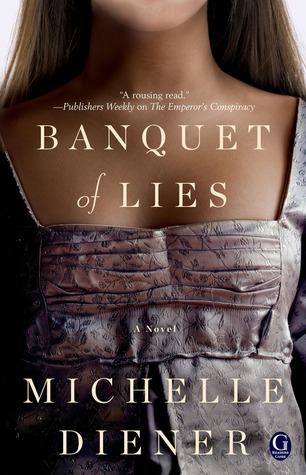 Banquet of Lies
A SECRET TREATY AND A SECRET LIFE
REGENCY LONDON: Giselle Barrington is living a double life, juggling the duties of chef with those of spy-catcher. She must identify her father's savage killer before the shadowy man finds her and uncovers the explosive political document her father entrusted to her safekeeping.
Posing as a French cook in the home of Lord Aldridge, Giselle is surrounded by unlikely allies and vicious enemies. In the London streets where she once walked freely among polite society, she now hides in plain sight, learning the hard lessons of class distinction and negotiating the delicate balance between servant and master.
Lord Aldridge's insatiable curiosity about his mysterious new chef blurs the line between civic duty and outright desire. Carefully watching Giselle's every move, he undertakes a mission to figure out who she really is—and in the process, plunges her straight into the heart of danger when her only hope for survival was to remain invisible.
If you enjoyed The Emperor's Conspiracy, you'll find a number of the characters from that book make an appearance as secondary characters in Banquet of Lies, including Charlotte and Lord Durnham, although you don't by any means have had to have read The Emperor's Conspiracy to read Banquet of Lies. It stands on its own.
Goodreads
|
Amazon
|
B&N
|
Book Depository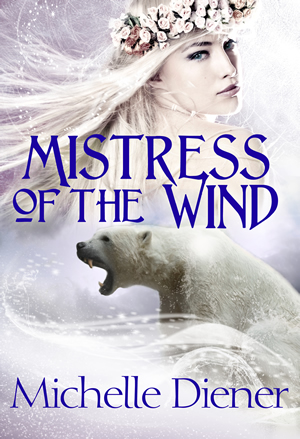 Mistress of the Wind
Releasing: December 19, 2013
Bjorn needs to find a very special woman . . .
The fate of his people, and his own life, depends on it. But when he does find her, she is nothing like he imagined, and may just harbor more secrets than he does himself.
Astrid has never taken well to commands. No matter who issues them . . .
She's clashed her whole life with her father, and now her lover, the mysterious man who comes to her bedroom in darkness and disappears to guard his mountain by day as a bear, is finding it out the hard way. And when he's taken by his enemies, no one is prepared for Astrid's response.
It is never wise to anger the mistress of the wind . . .
A captivating and magical adult retelling of the fairy tale East of the Sun, West of the Moon.
Goodreads
|
Kobo
In A Treacherous Court
Susanna Horenbout and John Parker series Book 1
Henry VIII's most lethal courtier and his newly appointed artist become the only thing keeping him on the throne – and if they survive, neither will ever be the same.
John Parker is one of Henry VIII most useful courtiers — utterly merciless and completely loyal. But one small favour for his King will pull Parker into a deadly plot against the throne, one that will test his courage, his resolve, and most especially, his heart.
A commission from Henry VIII should have been the crowning achievement of Susanna Horenbout's career, but before the beautiful and talented artist even sets foot in England, she finds herself in possession of a secret that could change its history. With Parker as her only protection against killers who will stop at nothing to silence her, Susanna has to trust the dangerous, enigmatic courtier. She's used to fighting in a man's world, but she never expected to be fighting for her life.
Goodreads
|
Amazon
|
B&N
|
Book Depository
Other books in series:
Other works:
--------------------------------------------------------------------
An Interview with Michelle Diener
Hi Michelle, welcome to the blog, and thank you so much for coming over!
Michelle:
Thanks so much for having me!
1) I heard that you have a new book releasing next, your first foray into the fantasy genre, Mistress of the Wind. Belated congrats! It's based on an old folktale right? Is it your favorite folktale?
Michelle:
Yes, Mistress of the Wind releases on December 23rd, and I'm really excited about it. It is based on the fairy tale East of the Sun, West of the Moon and yes, it is my favorite fairy tale.
2) Hmm, I haven't heard of it actually, but it sounds super cool. I think anything that involves the poles and polar bears sounds so magical. Was it an impulse decision to try starting on a story that's in a totally different genre, fantasy no less, or a slow building idea taking root in your head over the years?
Michelle:
I've always loved fantasy and science fiction as much as historical novels, and I've always felt the world building skills needed for writing historical fiction are very similar to those needed for fantasy and science fiction. In both cases you are building a world the reader isn't familiar with, although I find fantasy a little more relaxing because I'm obsessive compulsive with my historical fact-checking and triple check every little fact in my historicals, something I don't need to do in fantasy.
3) You write mainly historical fiction, and they're always based around a true event/time/under a monarch in history. What first gave you the idea to do that? Do you have a favorite time period or happening?
Michelle:
I love taking real events and thinking 'what if?'. I read history at university and my writer's imagination would often lead me off into daydreams while I was researching for my history papers, and I would get sidetracked by interesting facts and events that weren't relevant to the topic I needed to research but which were fascinating all the same. It is wonderful to actually create those stories on the page now. As for a favorite time period, I'm interested in so many periods, I can't choose. There is something deeply intriguing about all of them, to me.
4) Hey, I do that too sometimes! Like how after watching a documentary or reading about a certain time and I'll try to imagine what it's like to see their world through their eyes. Especially for ancient Egypt books/documentaries. Amazing. :)
Which of your books do you think stay true to history the most? Which is your favorite one to write?
Michelle:
My book
Daughter of the Sky
, set during the outbreak of the Anglo-Zulu War in the Victorian era, is the most true to history. I meticulously followed the chain of events that occurred up until the first real battle of the war, and most of the characters were based on the real people involved. As for favorites, I really can't choose. At some point I adore each book I've written, then hate it, then despair over it, then grow to love it again. It's the nature of the beast :)
5) My favorite historical novels are those that stay true to what really went down in history! I've read and loved Banquet of Lies! All that food! Are you a foodie? Can you cook and bake some of the mouthgasmic food Giselle makes? What's your favorite cuisine and dish?
Michelle:
I am a foodie. And I've made all the dishes in that book :) I have the recipes up on my website here, for anyone interested in giving them a go: http://bit.ly/18FblrG
I would struggle to come up with a favorite dish, but I have a real love for French cooking, and I also love Moroccan food. One of my favorite dishes to make is Moroccan Lamb Tagine.
6) BOL is a lot about hiding, spying and conspiracies. What was the most fun part of the novel to write?
Michelle:
Georges Bisset was a lot of fun to write. Every cooking show I've ever seen, plus the historical details of some of the first celebrity chefs like Antonin Careme informed how I wrote his character, and I loved putting him on the page. I also loved writing the interactions between Giselle and Jonathan.
7) Oh, Georges! Haha, he seems to be the embodiment of the stereotypical 60's French cook! All diva. ;) Who has been your favorite character to write so far?
Michelle:
I don't think a mother can pick favorites :) . I love John Parker, from my Susanna Horenbout and John Parker series. He is an interesting study in light and dark. He could so easily be a villain, and yet, he manages not to be. He reminds me of the character of Jason Bourne from Robert Ludlum's series. The movies were slightly different to the books, but the same element is still there. Someone very dangerous, and very focused, who could, but doesn't, act purely in self-interest.
8) I saw on an interview you did with
A Bookish Affair
that you would bring Vasic from Nalini Singh's Psy-Changeling series along if you were stuck on a deserted island, among others. OMG, I'm a Nalini Singh fan too!! Who are you favorite authors and any book recommendations? Maybe some historical fiction to fans of yours to pass the time while waiting for you next book to be released? ;)
Michelle:
I love the Psy-Changeling series! It just has everything in perfect proportion. I love Patricia Briggs's Alpha and Omega series, and her Mercy Thompson series, and I love Ilona Andrews Kate Daniels series, too. I am a die-hard Terry Pratchett fan, and also a fan of Iain M. Banks, particularly his science fiction work. I've just completed a new historical novel (connected to Banquet of Lies, with the Duke of Wittaker as one of the main characters) and when I'm in that mode, I don't like to read anything, let alone historical fiction, but if you haven't tried C.J.

Rapid Response Question

1) Pen and paper or Microsoft Word?
Michelle:

Pen and paper for plot outlines, MS Word for the actual writing of the story.

2) Hot chocolate or Bailey's Irish Cream?
Michelle:

I'm allergic to alcohol (really) so hot chocolate it is.

3) Henry VIII or President Obama?
Michelle:

Sorry, Mr. President, but Henry VIII wins :) That said, I'd much prefer to live under the government of President Obama than under the rule of Henry VIII.
------------------------------------------------------------------------
Michelle is very generously giving away one (1) winner's choice of a paperback or Kindle copy of Banquet of Lies. Paperback copy is open to wherever The Book Depository ships for free. (
List of countries TBD ships to.
) Giveaway ends Jan 8.
a Rafflecopter giveaway
**Giveaway is provided by Michelle Diener. ABS will not be responsible for any shipment of prizes and/or lost mail.
------------------------------------------------------------------------
Thank you for dropping by! For the master calender with the full list of events, refer to
Day 1's post
.