Oh damn, I think I've been more busy after my exams than before it! I've been to class outings, chalets, and CCA gatherings and studying for the SATs I've been unable to really sit down and read/blog without stress. But it's been fun. Fun and tiring, but still fun. :)
(I'm the dorky one at the top left corner with the peace sign)
(Cycling with half my lifeguard teammates and coach! I'm the rider on the front left. :)
But I haven't just been having fun at the beach and chalets, I've been planning a celebration of sorts for the coming of Christmas since after my exam and sooooo, preeeeesenting.......
Now, a wonderful, magical season is only right when you celebrate with really fun and amazing authors, aye? So I've put together 2 weeks of interviews, stories, reviews and GIVEAWAYS with some really awesome authors! :)) I will be flying off to Europe on a vacay with my family on the 22nd, so most of my posts around then will be scheduled ones.
So, to kick start this countdown goodness, I have invited
Livia Blackburne
, author of upcoming novel MIDNIGHT THIEF. It will be published by Disney-Hyperion in July 2014.
1. I write fantasy. Most often YA fantasy, but sometimes I branch out.
2. I was born in Taiwan, raised in Albuqurque, and spent my twenties in Boston, where I studied biochemistry at Harvard and neuroscience at MIT.
3. I started my debut novel Midnight Thief in high school, because writing a novel was the only way I could get out of the mandatory camping requirement. I finished about 60 pages. They were 60 awful, awful pages.
4. I finished Midnight Thief 12 years later, because writing a novel was the only way I could keep my sanity while conducting my doctoral research. This time, I got to 370 pages, and they were much less awful than the initial 60.
5. I write a blog about psychology and neuroscience for writers. You can check it out here.
6. Like every good Asian kid, I played the piano as a child. I don't do that as much anymore, but I still love to sing and dance.
7. I'm horrible at any sports involve fast moving projectiles, and I dislike most sports that involve highly repetitive movements (running, swimming, biking, etc.). This leaves basically dancing and martial arts.
8. When I wanted sweets as a child, my mother would give me one M&M. I thought that was normal, and to this day, have very low tolerance for sweets. One bite of chocolate bar, half a scoop of ice cream is about all I can take.
9. If I had to choose one author with the biggest influence on my reading and writing development, it would be Tamora Pierce.
10. Some of my favorite books: Graceling by Kristen Cashore, The Hunger Games by Suzanne Collins, Plain Kate by Erin Bow, Code Name Verity by Elizabeth Wein, Daughter of Smoke and Bone by Laini Taylor, The Lies of Locke Lamora by Scott Lynch.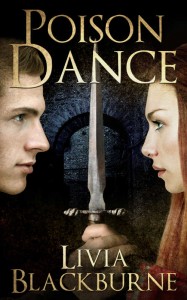 Poison Dance
Midnight Thief #0.5
James is skilled, efficient, and deadly, a hired blade navigating the shifting alliances of a deteriorating Assassin's Guild. Then he meets Thalia, an alluring but troubled dancing girl who offers him a way out–if he'll help her kill a powerful nobleman. With the Guild falling apart, it just might be worth the risk. But when you live, breathe, and love in a world that's forever flirting with death, the slightest misstep can be poison.
Goodreads
|
Amazon
|
B&N
|
Author's Website
Midnight Thief
Midnight Thief #1
Growing up on Forge's streets has taught Kyra how to stretch a coin. And when that's not enough, her uncanny ability to scale walls and bypass guards helps her take what she needs. But when the leader of the Assassins Guild offers Kyra a lucrative job, she hesitates. She knows how to get by on her own, and she's not sure she wants to play by his rules. But he's persistent—and darkly attractive—and Kyra can't quite resist his pull. Tristam of Brancel is a young Palace knight on a mission. After his best friend is brutally murdered by Demon Riders, a clan of vicious warriors who ride bloodthirsty wildcats, Tristam vows to take them down. But as his investigation deepens, he finds his efforts thwarted by a talented thief, one who sneaks past Palace defenses with uncanny ease.
When a fateful raid throws Kyra and Tristam together, the two enemies realize that their best chance at survival — and vengeance — might be to join forces. And as their loyalties are tested to the breaking point, they learn a startling secret about Kyra's past that threatens to reshape both their lives.
In her arresting debut novel, Livia Blackburne creates a captivating world where intrigue prowls around every corner — and danger is a way of life.
Goodreads
|
Amazon
|
B&N
|
Book Depository
|
Author's Website
From December 11-14th, the Poison Dance ebook is on sale for .99 cents as part of the Fantasy Romance Holiday Promotion.
Buy Poison Dance ebook at:
Kindle (US)
|
Nook
|
Kobo
|
iBooks
Paperback:
Amazon
Check out eleven other fantasy romance books also on sale for .99 cents
here
. And enter the giveaway below for a chance to win a $100 Amazon gift card.
a Rafflecopter giveaway
--------------------------------------------------------------------------
Here's the calender for the entire countdown, so you won't be confused/can check back anytime:
December 11th - (YA)
Livia Blackburne Book Promo
December 12th - (YA)
Review + Giveaway: Poison Dance by Livia Blackburne
December 13th - (Adult PNR)
Excerpt + Giveaway: Storm Warrior by Dani Harper
December 14th -
Top 10 Book Boyfriends + Giveaway
December 15th - (YA)
Book Promo + Giveaway: Jenny Lundquist
December 16th - (Adult HR)
Author Interview + Giveaway: Michelle Diener
December 17th - (Adult UF)
Interview + Excerpt: Lorenda Christensen
December 18th - (Adult UF/PNR)
"Would You Rather" Interview + Giveaway: Katie Reus
December 19th - (NA)
Interview + Giveaway: Pepper Winters
December 20th - (Adult CR/PNR)
Short Story + Giveaway: Olivia Hardin
December 21st - (NA)
Interview + Excerpt: Juliana Haygert
December 22nd - (Adult HR)
Guest Post + Giveaway: Ayr Bray
December 23rd - (YA)
Character Interview + Giveaway: Lisa Tawn Bergren
December 24th - (YA) CB
December 25th - CHRISTMAS!!
Thanks for stopping by! :))