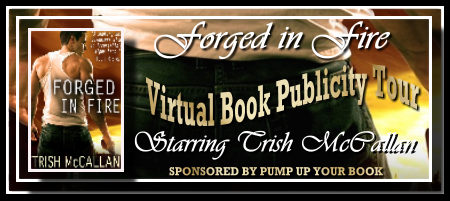 Introducing...
Trish McCallan
has been writing for as long as she can remember.
In grade school she wrote children's stories, illustrated them with crayons and bound the sheets together with pencil-punched holes and red yarn. She used to sell these masterpieces at her lemonade stand for a nickel a book. Surprisingly, people actually bought them. Like, all of them. Every night she'd write a new batch for her basket.
As she got older her interest shifted to boys and horses. The focus of her literary masterpieces followed this shift. Her first full length novel was written in seventh grade and featured a girl, a horse and a boy. At the end of the book the teenage heroine rode off into the sunset . . . with the horse.
These days she sticks to romantic suspense with hot alpha heroes and roller-coaster plots. Since she is a fan of all things bizarre, paranormal elements always find a way into her fiction. Her current release,
Forged in Fire
, was the result of a Black Dagger Brotherhood reading binge, a cold, a bottle of NyQuil and a vivid dream.
You can find Trish at
www.trishmccallan.com
.
Website
|
Blog
|
Twitter
|
Facebook
|
Amazon Kindle
Forged in Fire
Beth Brown doesn't believe in premonitions until she dreams a sexy stranger is gunned down during the brutal hijacking of a commercial airliner. When events in her dream start coming true, she heads to the flight's departure gate. To her shock, she recognizes the man she'd watched die the night before.
Lieutenant Commander Zane Winters comes from a bloodline of elite warriors with psychic abilities. When Zane and two of his platoon buddies arrive at Sea-Tac Airport, he has a vision of his teammates' corpses. Then she arrives—a leggy blonde who sets off a different kind of alarm.
As Beth teams up with Zane, they discover the hijacking is the first step in a secret cartel's deadly global agenda and that key personnel within the FBI are compromised. To survive the forces mobilizing against them, Beth will need to open herself to a psychic connection with the sexy SEAL who claims to be her soul mate.
Nominated For 2011's Best Paranormal Romance by The Romance Review!
"Forged In Fire is a smoking hot adventure with an irresistible alpha hero. Danger, action, suspense, and a steamy romance make a story that's impossible to put down!" –Patti O'Shea, National Bestselling Author of Through a Crimson Veil
-------------------------------------------------------------------------------------------------------------
When the Muse Pulls a One-Eighty
By Trish McCallan, author of Forged in Fire
There I was back in February of 2010; hammering away at a manuscript I loved, laughing like a loon as I hit the midway point in revisions. I got a huge kick out of this book. It made me laugh. I could not wait to get this puppy revised, and out on submissions so I could start on the second book in the series.
And then I made a
big mistake
. The biggest mistake an author can make. Well, at least the biggest mistake
this
author could make. I read
Dark Lover
by
J.R. Ward
, the first book in the Black Dagger Brotherhood series. I've since heard that the BDB books should be handled with extreme caution: with gloves, a full face mask, perhaps even a hazmat suit. Why? Because these books are the purest, most lethal form of book crack available. The characters and world can infect you through something as simple as skin to cover contact.
There is even a rumor (but don't quote me on this) that the FDA is trying to force Ward to put a warning label on the cover of her BDB books. Something like:
Warning this book will cause lack of sleep, walking around in a daze, unfavorable comparisons to your current male partner
)
You're laughing. But I'm

not

kidding. These books are addictive!
I picked up
Dark Lover
because I was curious. That's all. I had no interest in reading the actual series. For God's sake, I didn't even
like
vampires. Blood drinking, biting…ewwwwww.
The only reason I picked the book up was because a friend had mentioned that J.R. Ward was Jessica Bird and I got all nostalgic. I used to love Jessica Bird books back when I read Category romances. After the nostalgia passed, I got curious. Was her dark paranormal voice similar to her category voice? Yep, I picked the book up out of idle curiosity. I had no intention of reading the rest of the series.
One page into
Dark Lover
I pried myself loose long enough to go online and order every single book in the series. I express shipped them so I'd have them the next day. I read
Dark Lover
that night, stayed up until 3am in the morning because I couldn't put it down. And when I finally did finish and tried to get some sleep, alpha vampire warriors filled my dreams.
To say I loved the books is an understatement. To say I was addicted is an understatement.
For the next week—like any good crack addict—I existed without sleep or food, sustained by The Black Dagger Brotherhood. Once I'd finished the books, I immediately went back and reread them because I just wasn't ready to let the brotherhood go. And every single night dreams of mountainous vampire warriors filled my sleep.
My own book suffered. Hell—my own book died. I had no interest in it anymore. It wasn't funny, it didn't tickle me, no sir—it was boring and bland and most definitely not the Black Dagger Brotherhood. This continued for weeks, it continued for so long I became convinced the BDB had ruined me for any other fiction. Including my own.
Then as lack of sleep, lack of food and severe blood loss and sexual exhaustion from hosting the brotherhood—(okay a girl can daydream can't she?)—is wont to do, I got a cold. A bad one. I loaded up on Nyquil and slept the clock way.
And I dreamed.
Every. Single. Night.
About men who laid their lives on the line without hesitation, who protected those unable to protect themselves, and who loved with fierce determination. I dreamed about a brotherhood of alpha warriors who would step in front of a missile for someone they loved; without blinking, without thinking, on pure instinct. They were the quintessential hero.
Only these alpha warriors weren't from the Black Dagger Brotherhood.
They weren't even vampires.
They were navy SEALs instead. Officers of ST7.
A new obsession was born. As powerful, as addictive, as pervasive as the BDB had been. Only these were
my
heroes,
my
stories to tell. I lost interest in the Black Dagger Brotherhood and sank into my own world. My own heroes. My own brotherhood.
It took me a year to write
Forged in Fire
, the first book in the Forged series and my obsession never wavered. Instead, it grew stronger every day. It's still there, a pressurized force inside me, urging me to get started on
Forged in Ice
, book number two in the series.
I don't know what switch the Black Dagger Brotherhood flipped on inside me, but something happened.
And I couldn't be happier.
-------------------------------------------------------------------------------------------------------------
Giveaway Time!
1 lucky winner here at ABS will win a paperback copy of Forged in Fire. (How awesome is that?! Haha) Giveaway is for US mailing addresses only, and it'll last for 1 week on 2/21.
a Rafflecopter giveaway