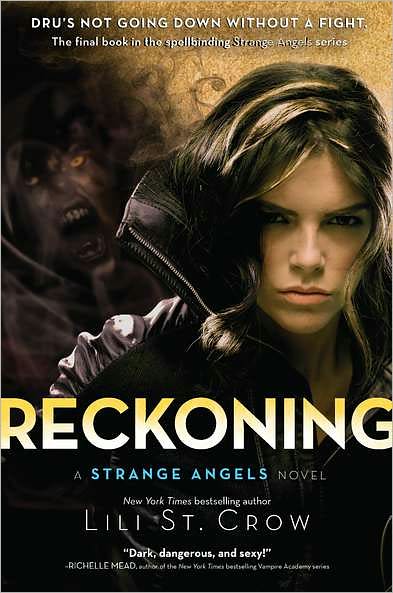 Published Date: November 1st, 2011
Finished Date: November 7th, 2011
Publisher: Razorbill
Format: Paperback
Pages: 304
Series: Strange Angels #5
My Rating: 1/5
Blurb from Goodreads:

The electric finale in New York Times bestselling author Lili St. Crow's Strange Angels series!

Nobody expected Dru Anderson to survive this long. Not Graves. Not Christophe. Not even Dru. She's battled killer zombies, jealous djamphirs, and bloodthirsty suckers straight out of her worst nightmares. But now that Dru has bloomed into a fullfledged svetocha—rare, beautiful, and toxic to all vampires—the worst is yet to come. Because getting out alive is going to cost more than she's ever imagined. And in the end, is survival really worth the sacrifice?

Dru Anderson's not afraid of the dark.

But she should be.
My Review
Just a few warnings before I get into the review:
1) This review will not be written in an objective point of view. It will more closely relate to being a rant or a bitching session.
2) There will be MAJOR spoilers. That is all.
I have trouble articulating how I'm feeling now, 48 hours after I've put the book down. That has got to be one of the
worst
finales I've ever seen. I am so sorry, but I am absolutely speechless, and not in a good way. Utterly disappointed.
I do not want to write a summary about it, because it will just make me relive every single, horrifying moment as I read the book. So I'll start talking from the back, cause to me, the ending was the ultimate disappointment.
Graves is Broken. Yep, big spoiler, he is. And after the entire ordeal, he wants some down time to himself to "man" himself up. And Dru just sticks to him all the way. Like what the hell? Christophe sacrificed himself for you, got tortured and drained by his crazy psycho of a father,
KING
of all the evil vamps Sergej, saved her ass countless times throughout the entire five-books series, was so sweet, so romantic, so bloody tender towards her, and she heartlessly just continues to leave him hanging even though she continuously goes to Graves. She said "I love you" to Graves, and when Christophe asks, "Dru... Is there a chance?" And she's goes, "I don't know." Which gave him hope. Again. I can't believe her! Graves was having mood swings towards Dru throughout the first half of the book, sometimes cold and pushing her away, sometimes all intense heat and proclaiming his love for the damsel. He literally gives whiplashes. Literally, I tell you.
Even though I'm rooting for Christophe to end up with Dru - always has been, always will, and because he obviously is the better man - I just want her to make up her mind and go to Graves, cause she obviously wants to be with him. No idea why, but I don't want to see Christophe getting his ass kicked just to save Dru everytime she disobeys his commands and does something stupid for Graves. Which is quite often. Grr.
Ok, that was so liberating. Good, now on to something else not about Dru's idiocy.
Plot. It was very mediocre. I expected so much more because I loved this series so much. I've been a loyal fan of Lili St. Crow's and even dug out her adult series to pass my time as I waited for the entire of the STRANGE ANGELS series to be released. Scout's honor. But St. Crow's annoying habit of having to internalise everything, to have Dru comment on every. Single. Minor. Thing! was very much present in this book. Not only that, she's sarcastic and sardonic. A little is fine, but in every comment! Her pessimism and sardonism leaks into every of her inner commentating that it grates on my nerves sometimes. So now with the excessive inner comments, the plot seems a little disjointed at times, and other times, a little insignificant. But the action and the fight scenes were abundant, and I loved it this time too. Just... With the excessive thoughts on Dru's part overwhelming it, things got noticeably duller.
I'm not sure why, but St. Crow took time to describe the settings and sceneries in RECKONING. It's a hot and cold thing, sometimes boosting the writing, but most of the time, since this is an action-packed, YA novel, it slows down the pace a lot. So when some trouble knocks on Dru's door, which is more often than not, she starts with her inner commenting tirade AND description. Ohhhhkay. Why? It got so annoying that I had to do this book in a few sittings.
I feel so mean flaming this book so bad, more so because this was one of my favourite YA series. But oh well, I had so much pent up anger after I read it, so it became a bitching session. Sorry if I offended anyone. Sigh. I just didn't like it. And I really want to say this: If you're an author and you don't have a heart to write an ending properly, then please don't. I'm just so shattered right now.. For Chris. For Dru. For Graves. And for every STRANGE ANGELS fan out there who's going to read this book and experience this...
this feeling
. Cause let me tell you,
this feeling
ain't nice.
P.S. What's up with that weird apparition-like thing with bad teeth and eyes behind Dru on the front cover? Other than that, I love the yellow and the Dru-model. Totally badass.
My Rating